Regular price
Sale price
$84.00 USD
Unit price
per
Sale
Sold out
It's be a long time coming, but we finally have a Boyds branded pair of jeans and boy are they a bit special.
I am a massive jeans fan and wear them for any occasion all year round, so when it came to a Boyds pair, I knew what I wanted. Classic fit, hard wearing, selvedge and raw denim.
If this terminology is new to you, let me take you down a rabbit hole of denim fanaticism...

Firstly, selvedge denim is woven on a narrow loom which produces the trade mark closed edge which can be seen on the hem of the leg. Selvedge denim is made with a tighter weave meaning they are denser and more durable and these in particular are a mighty 16.5oz, which is double what most of the stuff on the high street is.
Now, lets talk raw denim. Raw denim is basically free from any finishes or wearing processes meaning that it is up to you to decide how your denim will wear.
I won't preach to you a single way to look after your raw denim jeans (there is tonnes of information and theories out there), but the accepted logic is that you resist washing them for as long as possible to allow them to develop wear and fit to your body. Think of it as breaking it a fresh pair of boots - when you first get them they can be stiff and ungamely, but once you have broken them in, they become the most comfortable pair you have.
These are not your standard jean and I have put a lot of work into making them special. I have attached a specially made Boyds button, hand branded the leather patches to the back of the waist, screen printed the care instructions inside, these bad boys have taken A LOT of work and as such are limited to just 50 pairs. They aren't cheap, but quality isn't, and these jeans will outlive any of the guff you get on the high street or from fast fashion brands but in the scheme of selvedge denim, they represent incredible value. Just Google the likes of Huit Denim, Naked & Famous or &SONS.
I have deliberately had all the jeans made in a long length to allow to to either wear a turn up (or show off the selvedge hem) or have them shortened. You can have jeans hemmed at any dry cleaners for around £10 to make sure they work perfectly with whatever footwear you opt for.

If you come and try some on at a meet or show I will shorten them to your desired length and ship them free of charge (this service is only available when the jeans are tried in person).
Need to know:
* Regular, straight leg fit
* Ape-hanger stitching design on rear pocket

* Super-heavy weight, 16.5oz

* 100% cotton raw denim 

* Hand fixed custom Boyds button

* Hand branded leather patch
* Screen printed care instructions
* Limited to 50 pairs 
Size Guide:
| | | | | | | |
| --- | --- | --- | --- | --- | --- | --- |
| Waist Size | 30" | 32" | 34" | 36" | 38" | 40" |
| Inside Leg | 34" | 34" | 35" | 35" | 35" | 35" |
Share
View full details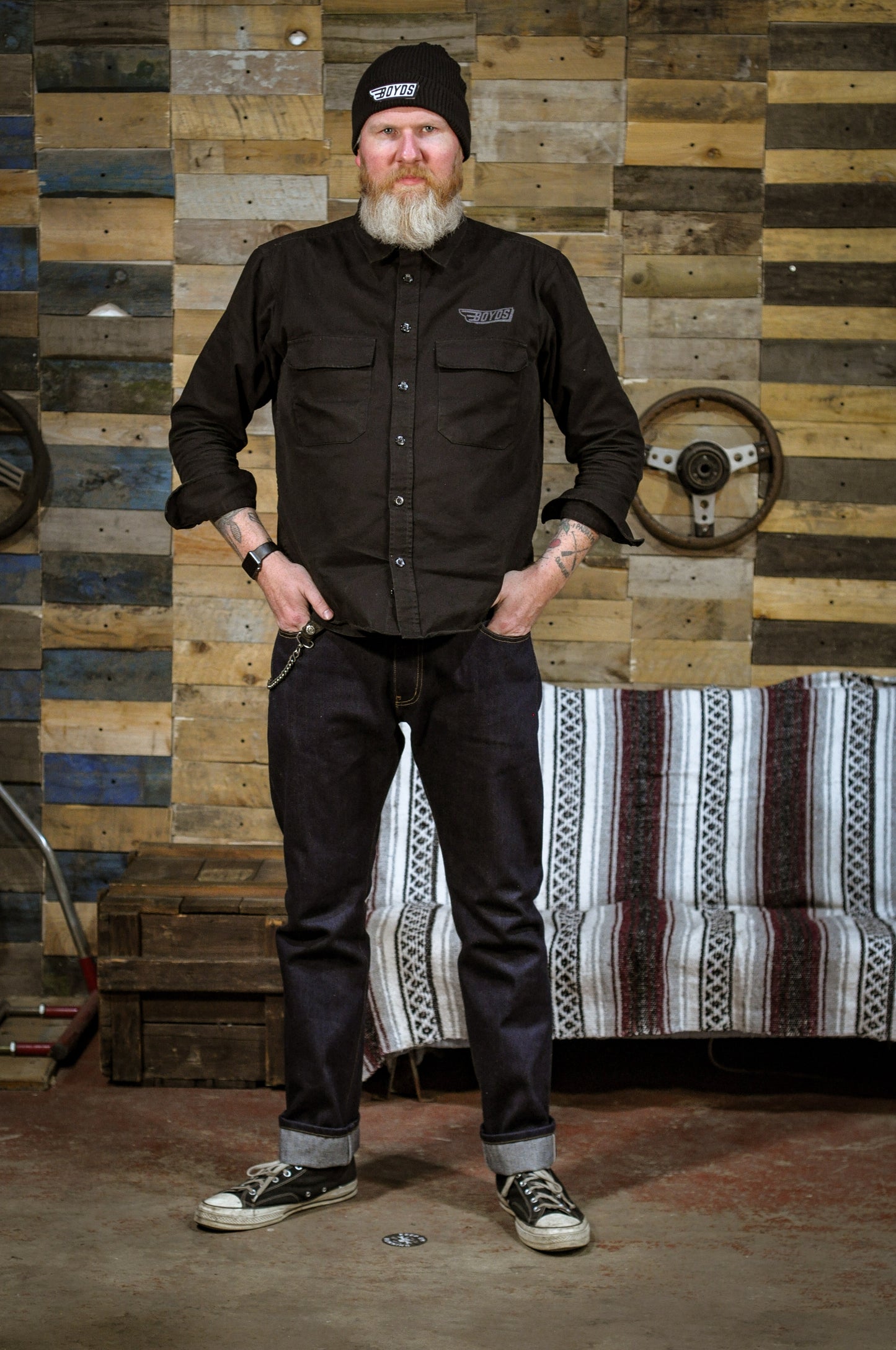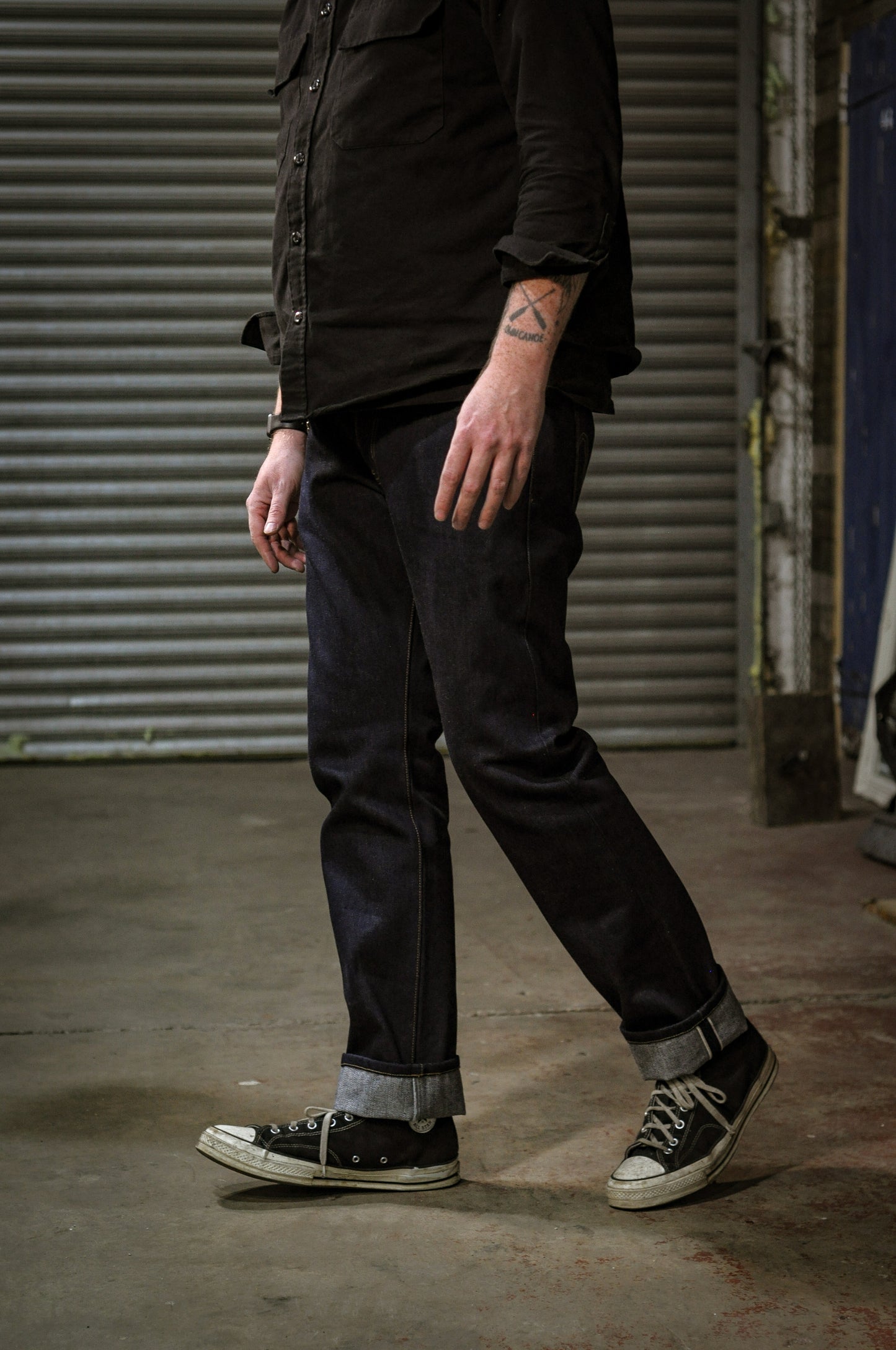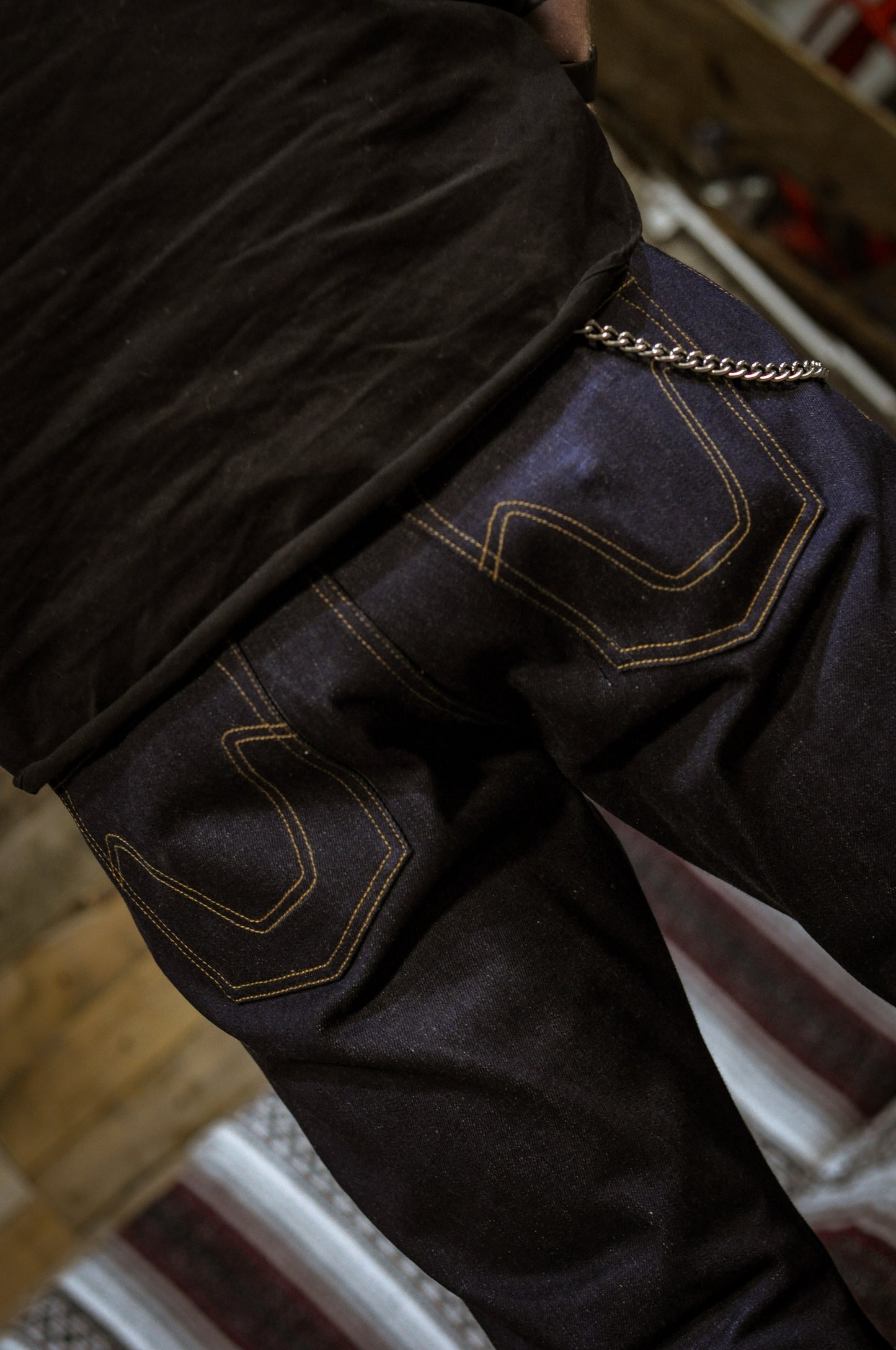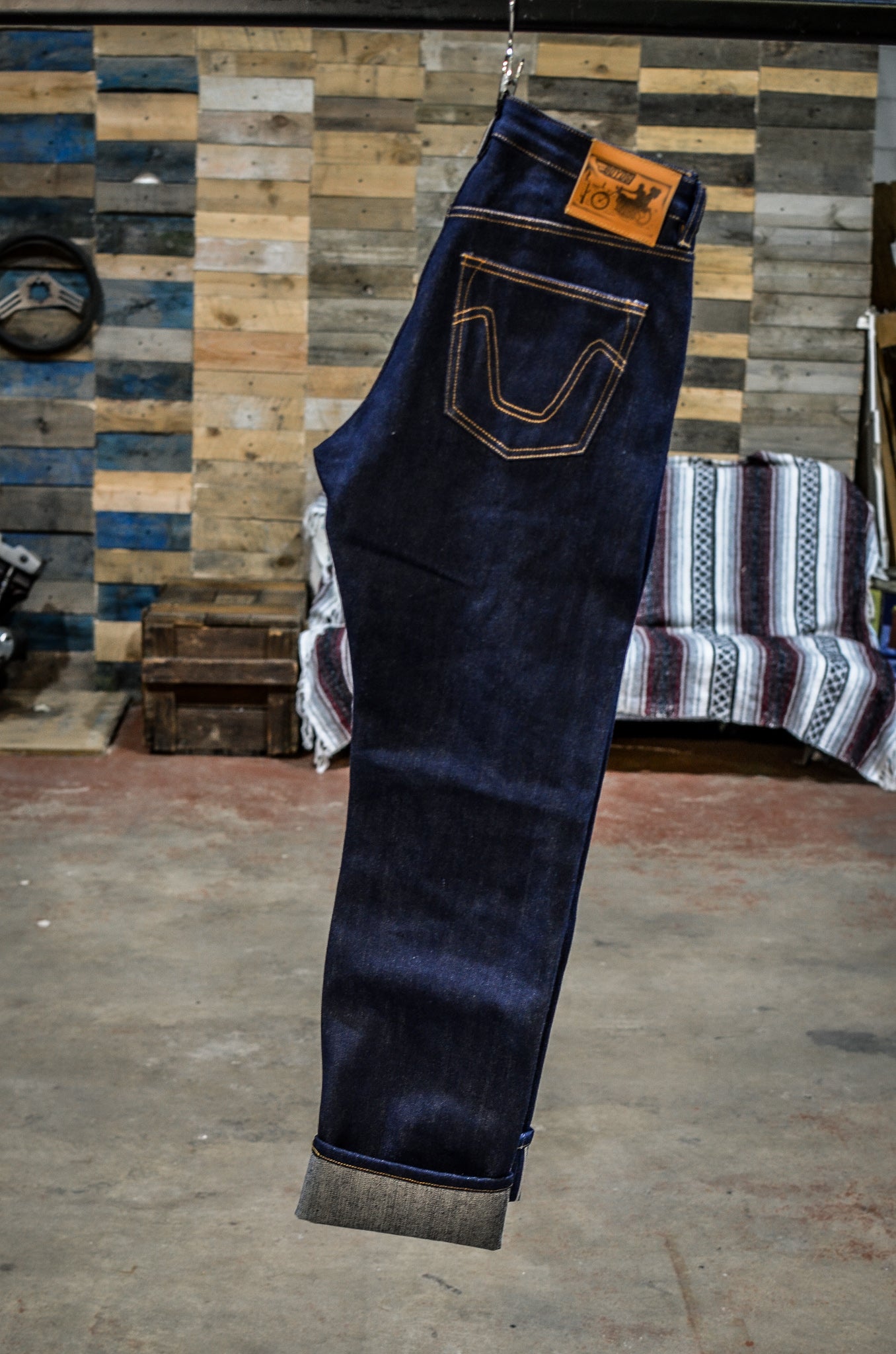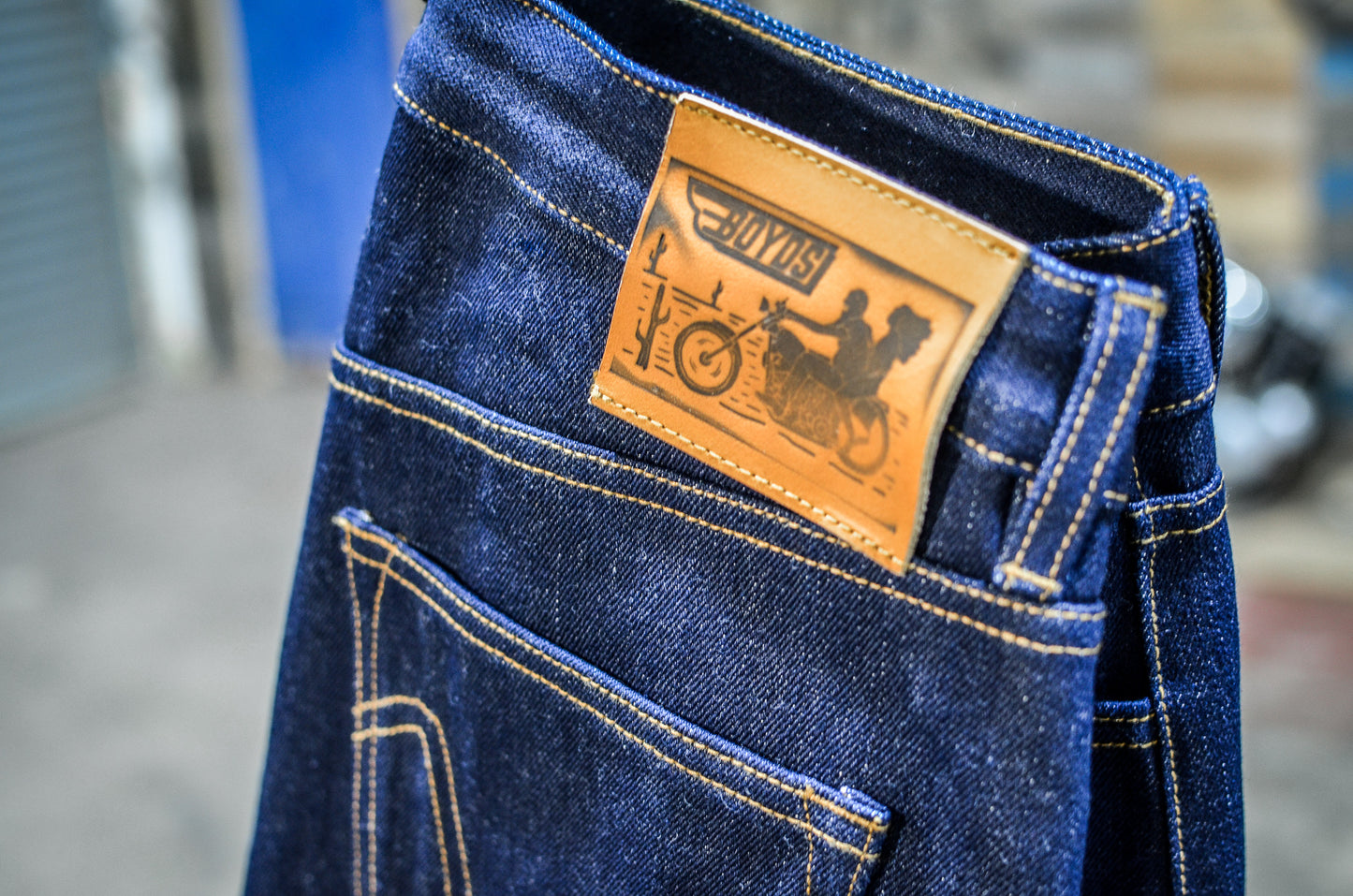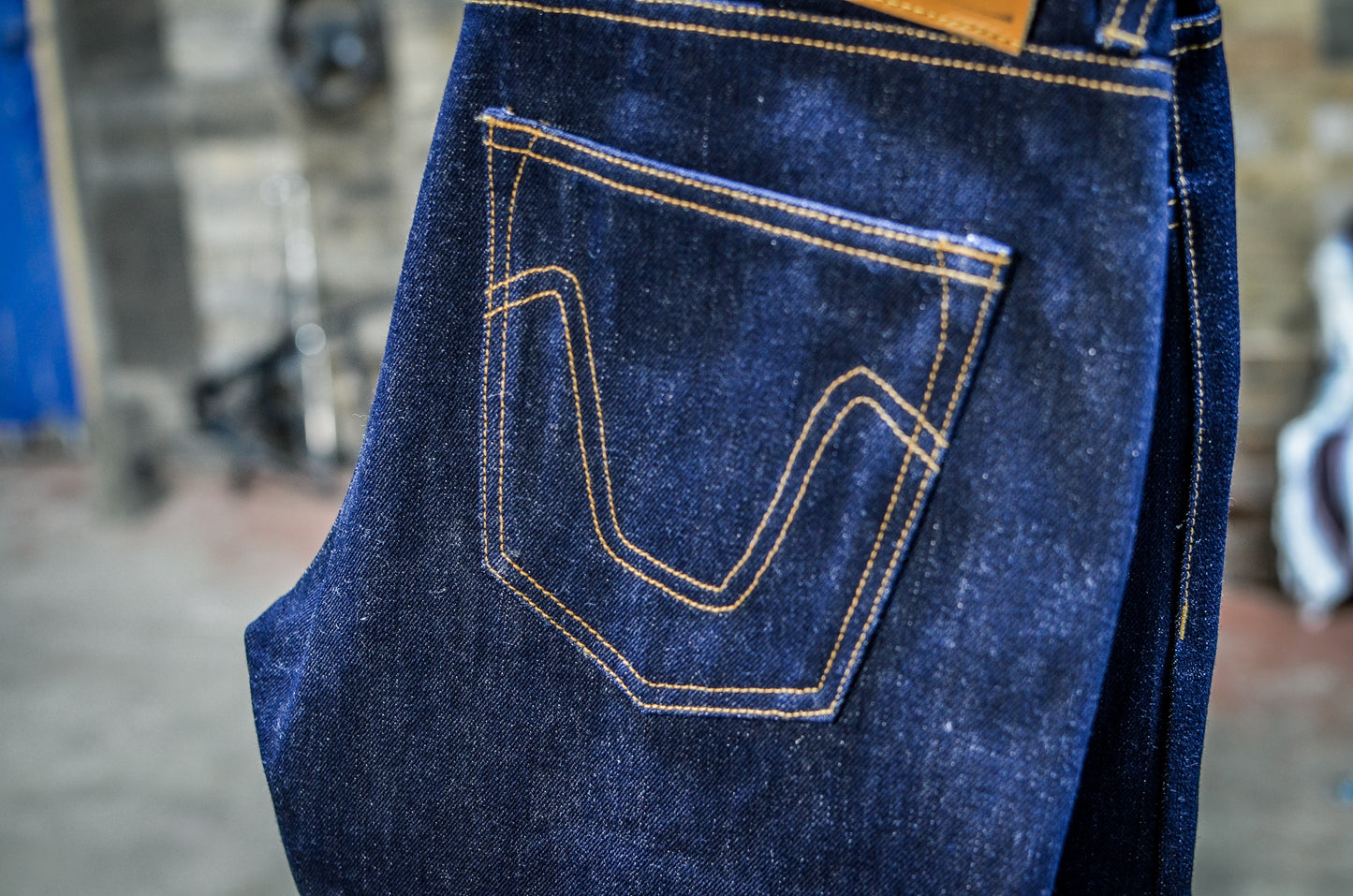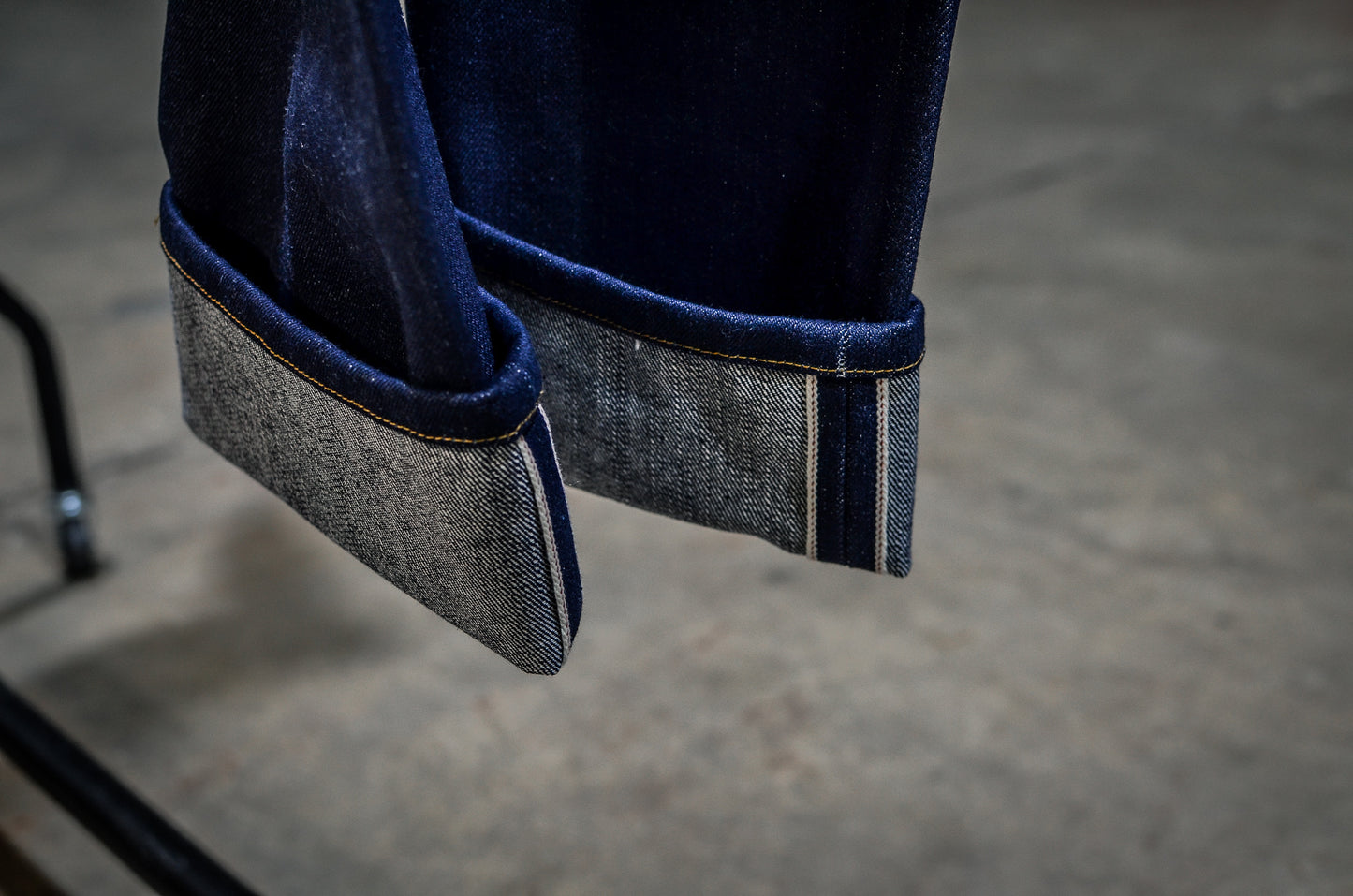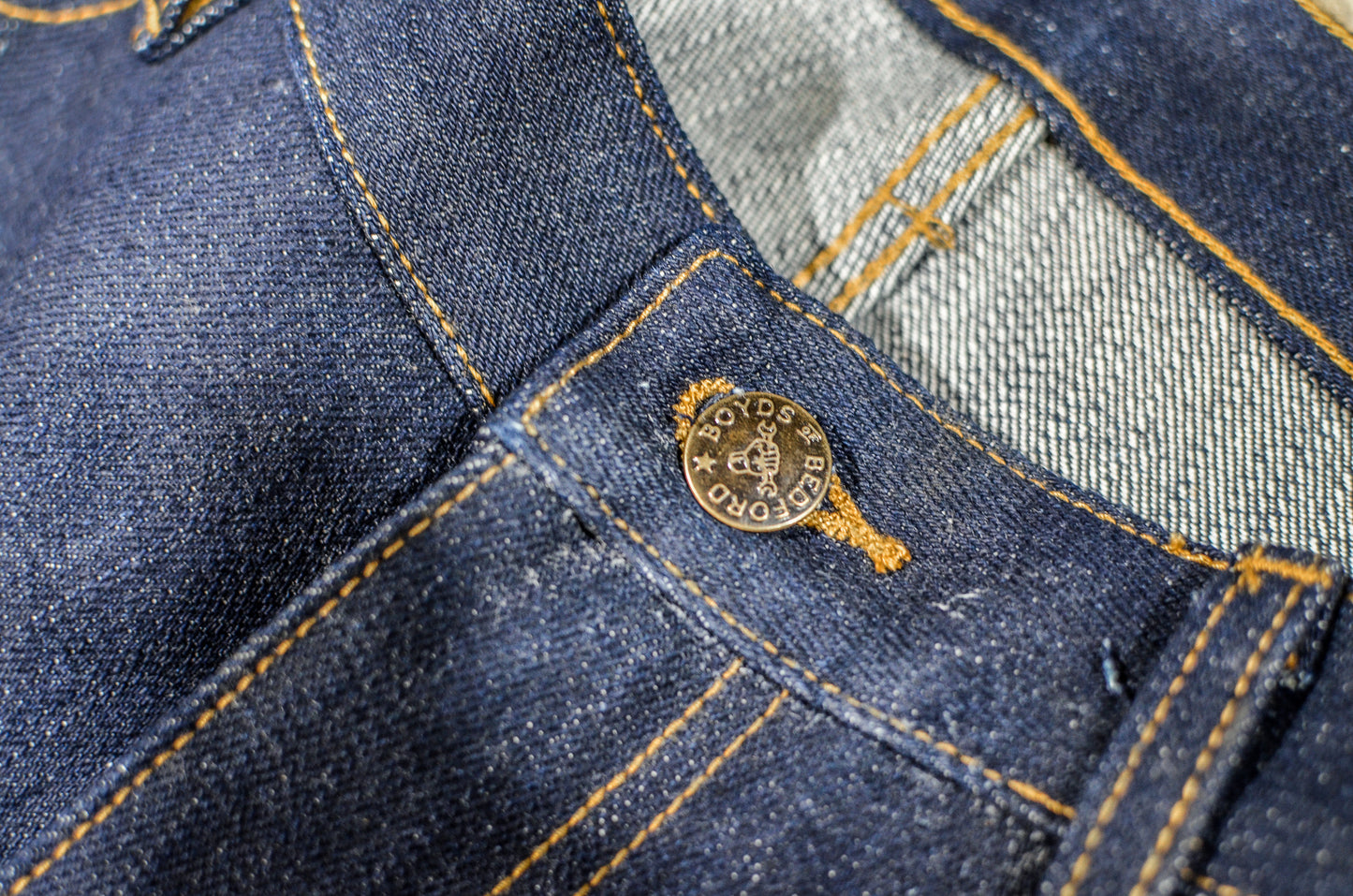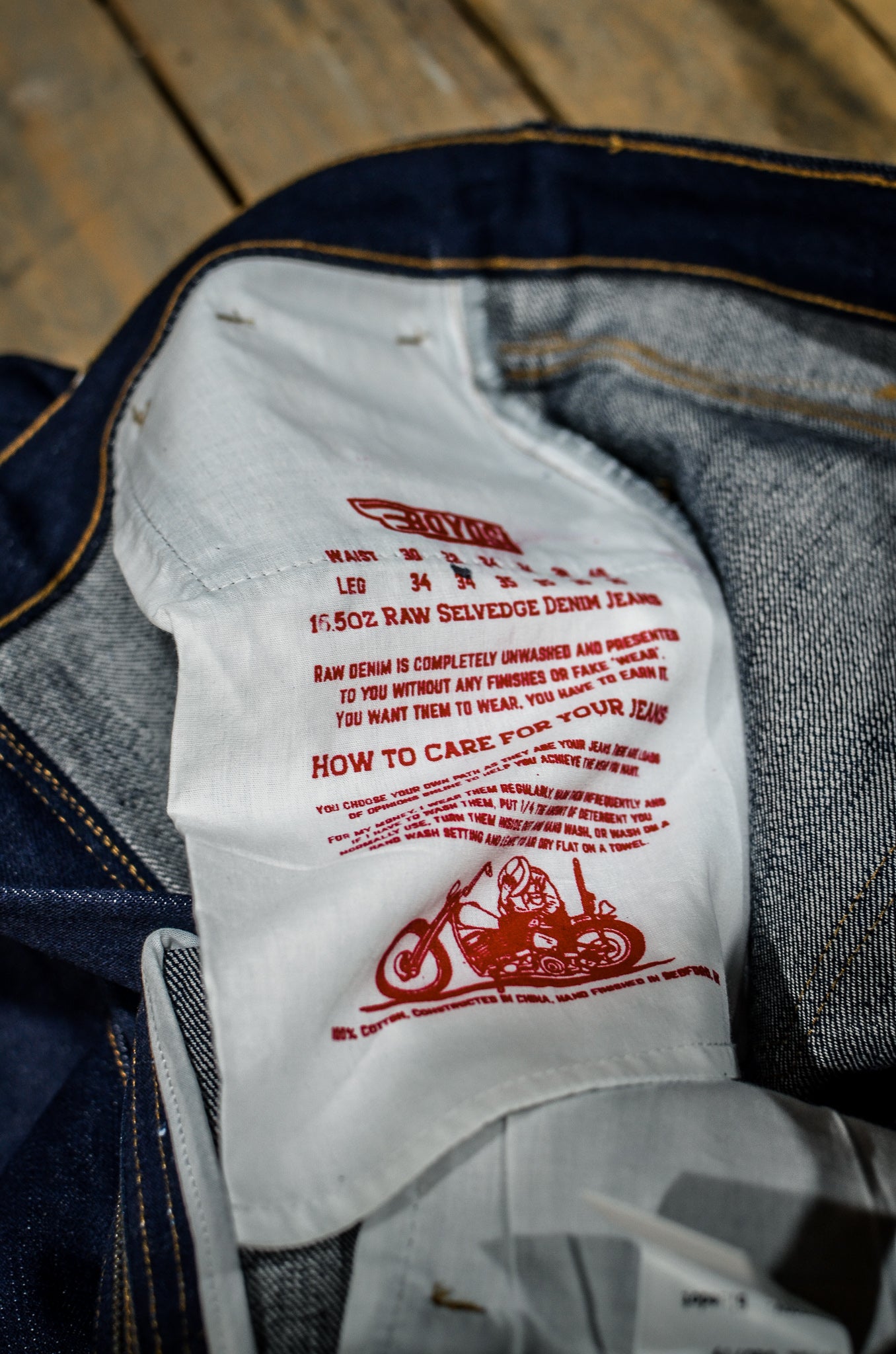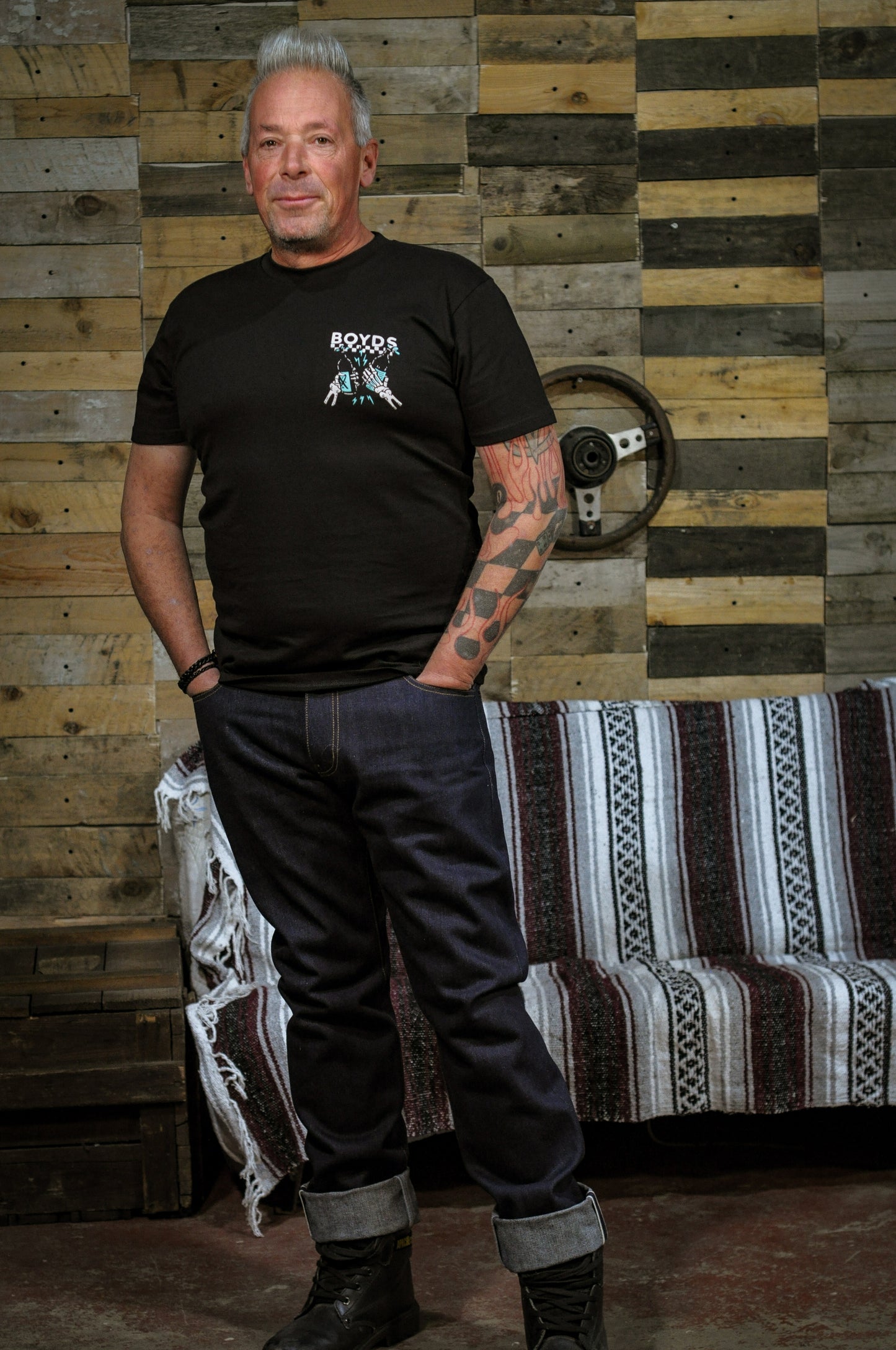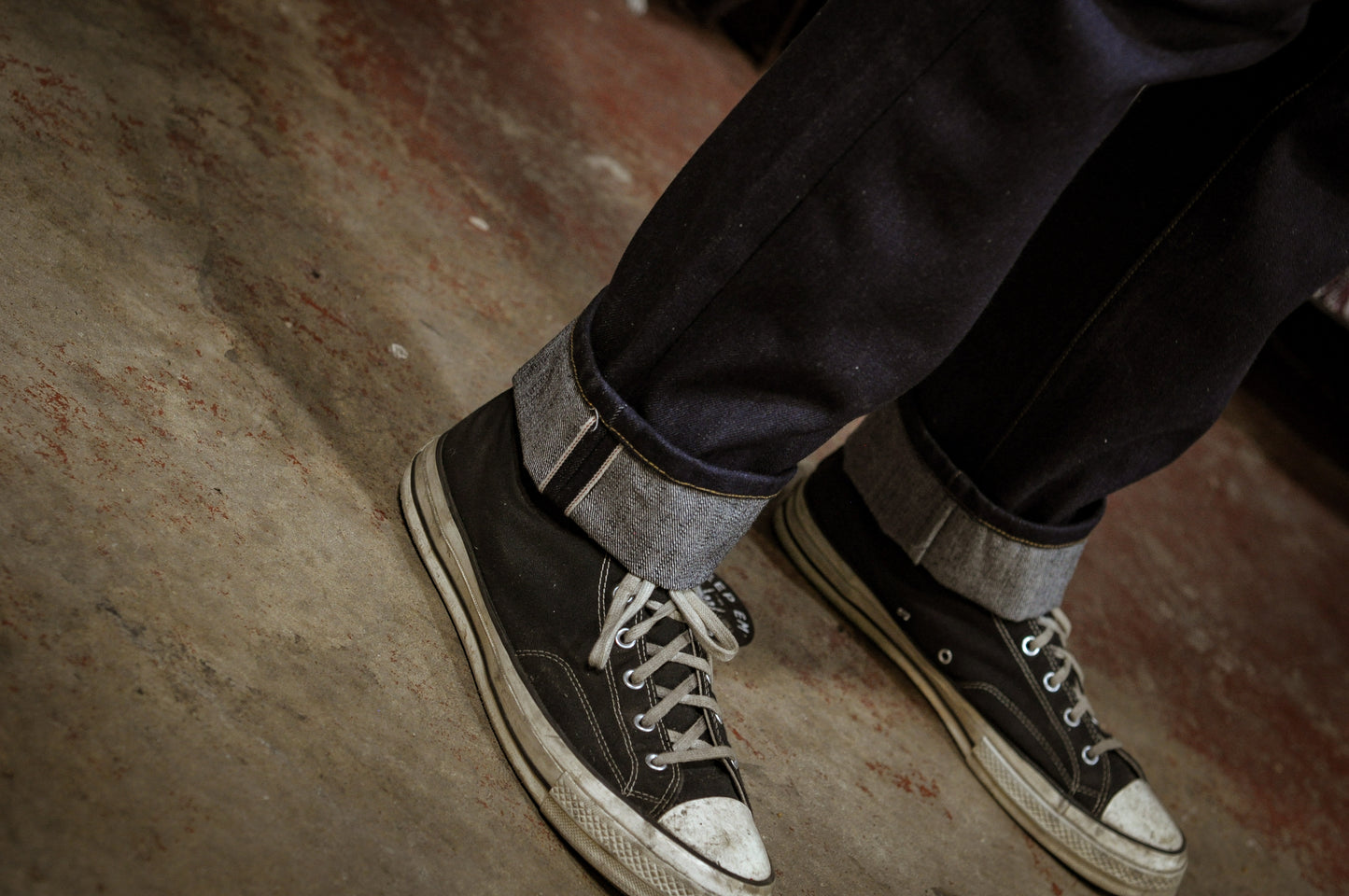 Great Value
I haven't had unwashed, raw, selvedge denim for years, it's just too expensive... except this time it isn't. These feel at least as well made as any other jeans I have, if not better, and they're pretty close in price. The weight is good, obviously they aren't armoured or anything but I don't always want that; I'm not always on the bike, just mostly. The speed of delivery was good, I'd buy from here again and happily recommend the place too.